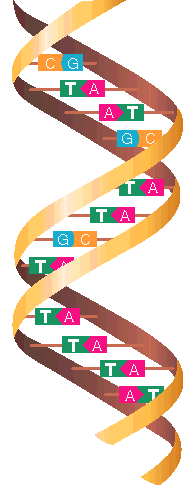 Most cells in the human body have a nucleus containing 23 pairs of chromosomes. Chromosomes are made from very long molecules of DNA. Each molecule is in a ladder-like shape, with the 'rungs' being made from a pair of nitrogenous bases, known as A, T, G or C, and the sides made from repeated pentose sugars and phosphate groups. A group of one base, one pentose molecule and one phosphate together is known as a nucleotide and DNA can be regarded as a polymer of these nucleotides.
The bases are always paired A with T and G with C and it is the exact sequence of these base pairs in the DNA molecule that maps out the genetic code of the individual.
The DNA molecule is twisted into a double helix and coiled so tightly, that the total length of the human genome, about 1.8 m, fits inside a nucleus of diameter about 6 micrometres.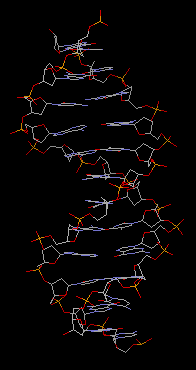 A small section of a chromosome that controls particular characteristics, is called a gene. Each chromosome carries hundreds of genes; scientists have identified 20,000-25,000 human genes. Only some of the full set of genes is used in any one cell – some genes are 'switched off'.
Model of a small section
of a DNA helix