Previous and current treatments
Insulin is a 51 amino acid protein and needs to be injected into the body rather than taken orally to avoid being broken down in the digestive system.
Early insulin treatments used the hormone isolated from cow (bovine) and pig (porcine) pancreas. This needed a great deal of purification to isolate the insulin and even then, there were contaminants. The preparations were short-acting and could cause allergic reactions.
In 1955, the amino acid sequence of human insulin was discovered. The amino acid sequence of porcine insulin is different to human insulin by one amino acid. Bovine insulin differs by three amino acids.
Modern insulin is now obtained from bacteria that have been genetically modified to produce human insulin. By further manipulating the insulin, it has been possible to develop a range of medications that have different properties. For example, adding zinc causes the insulin molecules to form hexamers (six insulin molecules loosely attached to each other). This form of insulin is absorbed into the body more slowly than regular insulin, thus reducing the need for more frequent insulin injections.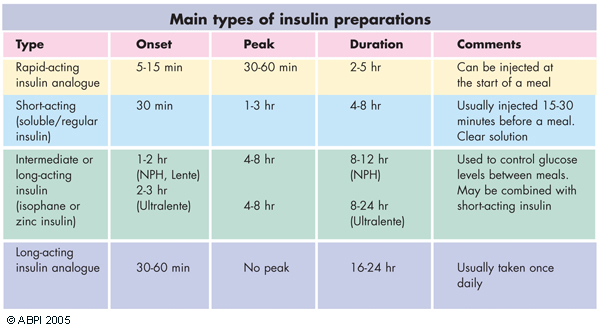 Range of insulin preparations, from short acting to long acting.
Injecting insulin on a regular basis can cause problems and researchers are constantly working to develop better ways to take insulin.
Skin patches are being developed that allow the insulin to be directly absorbed into the body and implants under the skin may also be a treatment of the future.
Small pumps which inject insulin under the skin in a controlled way throughout the day are now available. Miniaturised 'nanopumps' may soon replace the large pump shown here.